MEET THE DETECTORIST: JKRESS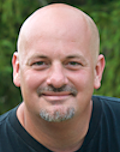 "I always cherish opportunities to search sites out of the city in quiet, typical Iowa farming communities - especially locations in small rural settings. Areas where the only sound to be heard is the wind whispering through old tall pine trees, an occasional tractor in an adjacent cornfield, and only the sound of birds singing to break through the silence. Although rare, these are my favorite places to hunt."
These words from Joe (jkress) express what metal detecting is all about - the peace and serenity of the setting, as well as the wonderment of history that accompanies each target.
Joe began metal detecting in the summer of 2009, when two co-workers invited him on an outing and let him borrow one of their extra machines - a White's Coin Master. After this first trip, he decided that metal detecting was a hobby he wanted to pursue, although he was unsure if he would be completely taken with the hobby. He searched the internet for machines in the $200-$300 range.
The Garrett ACE250 was very popular with great reviews, so he made the purchase and used a week of vacation time during early August of 2009 to try it out.
Very few old coins came up during that first week, but Joe was determined to find something with history. and so he pushed on. About eight days into it, he found his first silver coin. and then, on that same day, came silver coins #2, 3, and 4. Joe was hooked.
The ACE250 produced a total of 51 silver coins for Joe during that 2009 detecting season, and he dug another 21 silver coins between March and July of 2010. "The 250 could really find keepers."
But after frequenting several internet forums, Joe began to wonder what his machine was 'missing'. He had always been happy with what it was finding. but suddenly, thoughts of what he might be missing began to haunt him.
After more research, he realized his next machine was definitely going to be a Minelab. The 'deep turf' reputation of the Minelab Explorer SE Pro and its ability to sniff out good targets mixed within iron were what sold him on the machine.
"Reading stories and posts about what still lays in wait in 'hunted out' parks was another motivator to switch to a more capable tool," Joe recalls.
The Minelab finally arrived and Joe thought he was set to start pulling silver coin after silver coin from the parks in his area. This did not happen. "At that point I decided to go right to the expert with my questions - angellionel."
After many responses to questions and advice from Angel, suddenly the parks in Joe's area started to open up a whole new playing field.
"With Angel's help and the inspiration from several staff and members of American Detectorist, 'hunted out' parks first became productive for me. It was very exciting to start pulling old keepers from my local parks. I was simply amazed at how many silver coins and Indian Head and Wheat cents were waiting to be found in areas of parks considered 'not worth' the time. This is certainly when the ball started rolling for me. Two hundred silver coins and 103 Indian Heads during the 2011 season will be one I will never forget."
Joe notes that detecting parks can be both frustrating and rewarding. "The challenging part of hunting parks for keepers is filtering through all the trash. After all, we are looking for targets everyone else missed, and every area has lots of talented detectorists," he comments. "Trashy areas of parks are frustrating, but the trash in the only reason the old coins are still there to find."
I asked Joe to tell me about some of his favorite finds. "Tough question for sure," was his reply. "Many exciting finds have found their way under my coil over the last few years. My first truly exciting find was my first half dime. It really made me feel like I was finding some of the old coins the folks on the East Coast uncover that I would routinely admire on metal detecting forums."
Since then, his other favorite finds include two Morgan dollars, an 1833 Mexican 8 reale, several half dollars, an 1865 two cent piece, several seated dimes and quarters, shield nickels, and a second half dime. Large cents are at the top of his wish list; he has dug two of these to date.
Joe has been hunting with his Minelab Explorer for two years now. He primarily hunts by sound (tone) alone. According to Joe, the unlimited number of tones produced by the Explorer offer a great wealth of information about what is under the coil, especially when multiple targets are under the coil together.
He prefers Sun Ray Pro Gold headphones. "The crisp, sharp sound quality of these headphones really makes a world of difference. Sound is everything to me."
He also uses a Sun Ray X-1 probe, noting that frequently the coin he is digging is in a hole with other trash, and the X-1 helps him know which target to go after first.
His digging tool preference is a Predator Tool Model 85. "I can't imagine anything better. I have pried out some pretty big items with this digger. Never has it bent."
When asked about tips/tricks for detecting in hunted out parks, Joe replies that he usually does a 'wander' walk through when first checking out a new park, analyzing the area. Other tips he offers include the following:
Look for areas that are natural and that have been manipulated.
Search close to 20-30 year old (young) trees and telephone poles. While they are certainly not old, they are planted in old ground. "I've found lots of silver coins right up against young trees and poles. Although they look not nearly as inviting as the big, 100 year old trees. they are still in old ground."
Find the trashiest areas of the park, work extremely slowly, and listen closely for little cracks of high tones between the iron and pull tabs.
Look for 'out of the box' areas.
Joe's #1 recommendation for people new to the hobby? "Persistence. Keep learning and keep hunting."
One metal detecting hunt that has -- and still does -- stand out as one of Joe's favorites occurred at the setting of a small, out-of-the-way country church that dates back to the late 1800's.
"The church had been hunted many times before I placed my coil over its ground. However, many nice old coins and relics found their way into my pocket, including mercury dimes, Indian Head cents, a shield nickel, and some relics.
My last hunt on this quiet country church ground was my most memorable. While searching an area behind the church, I came across a signal that registered as an Indian Head cent mixed with iron.
I cut a very small plug to excavate the hopeful Indian Head and was completely shocked when the biggest silver disk I have ever seen landed on my towel.
I sat for a moment gazing at the dirt pile wondering if it was a big aluminum token, something else, or in fact an actual silver dollar. After summoning the courage to pick it up. I could clearly see it was the coveted Morgan silver dollar.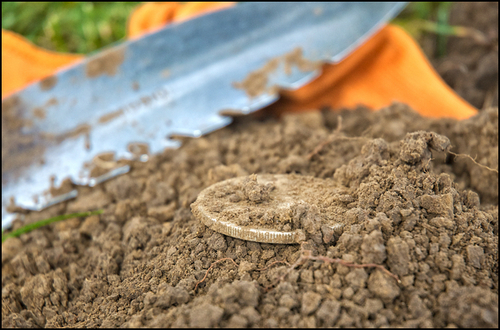 Every worry, concern, and responsibility of life slipped into the quiet as I sat on the ground and admired the huge piece of dirt-encrusted silver."